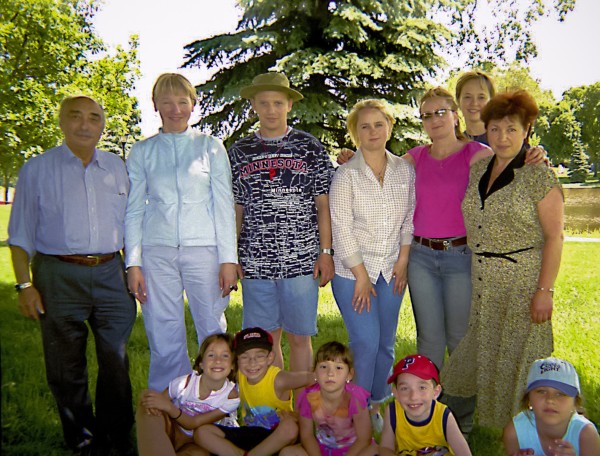 Vladimir Sivriver (Principal)
Education:
Graduated from VZMSH at Moscow State University, 1980
Graduated from Kishinev Agricultural Institute, 1985
Experience:
Private  lessons in mathematics and physics, 1982 – 1986
Teacher at Kishinev Agricultural Institute, 1989
Worked as a coach of swimming at JCC, 1991 – 1993
Director of the Bookvar school, 1996
Mathematics teacher Bookvar at school, 1997
Education:
Russian State Pedagogical University, St. Petersburg, 1988 – 1993
Master's Degree in Speech Pathology and Special Education, GPA 4.0. Diploma with Honors
Experience:
Bookvar Russian Language School, 2005 – Current, Russian language teacher for American students
Minnesota Stroke Association, 2005 – Current, Rehabilitation with stroke survivors
Rehabilitation Center for Stroke Patients in St. Petersburg, Russia, 2000 – 2004
Rehabilitation Center for Children in St. Petersburg, Russia, 1993 – 2000
Professional Accomplishments:
2005: Author of Pyscholinguistic Assessments of Language Processing in Aphasia for use with Russian speaking patients. Translation and adaptation from English. Published in Oxford 2005.
2003 – 2004: Published articles on rehabilitation of patients with communication problems and dysphagia. Published by the Institute of evolution physiology and biochemistry and St. Petersburg Medical University, St. Petersburg, Russia.
2002 – 2003: Official scientific presentations at Federal Center for Speech Pathology in Moscow, Royal College for Speech Therapists in London, UK.
Hobbies:
Studying different languages (German is my second foreign language besides English), theaters (ballet, opera and show), concerts of classical music and music of the 60's and 70's as well as a love for animals (owner of a Pekingese). I like walking long distances and different outdoor activities with my family and friends. I like working with people!
Liliya
Education:
Hamline University, St. Paul, MN – July 2012, Major: English as a Second Language
Bachelor of Arts and Master of Arts, June 2010, Major: English as a Foreign Language
Ivanovo State University, Ivanovo Region, Russia
Experience:
Bookvar Russian Language School, November 2011 – Current
Substitute paraprofessional, Edina School District, December 2011 – Current
Short-call substitute teacher, Forest Lake, Chisago and Centennial School Districts, February 2010 – Current
Student Teacher, Edina High School, September 2009 – November 2009
Paraprofessional, Edina High School, February 2008 – June 2008
Private Tutor of English, Ivanovo, Russia, September 2003 – June 2007
Svetlana
Education:
Graduated from VZMSH at Moscow State University, 1980
Graduated from Kishinev Agricultural Institute, 1985
Experience:
Russian Language Tutor, Private tutoring, 2010 – Current
English Tutor, Tutoring 2nd through 10th grades, 2005-2008
English Teacher (Vladivostok, Russia), Middle School #76, 2004-2005
Kids Summer and Winter Camp (Vladivostok, Russia), "Yunga" Camp: Leader, 2003 – 2004